Quality isn't expensive   .   .   .   .   .   it's priceless


KARAMAD is home to 7 resident Siberian Huskies and an occasional guest. We are located in the foothills of the Sequoias in central California. I have shared my life with this breed for the past 30+ years. Working with a very limited breeding program, all animals are selectively bred for soundness of mind and body, hoping each generation is better than the last. Proper temperament is a must! All the dogs share the yard and house and must get along. All animals are x-rayed and certified with OFA (Orthopedic Foundation for Animals) and eyes are cleared on an annual basis and certified with SHOR (Siberian Husky Ophthalmic Registry). The breeding program here is founded on memories and stories of the past, realities of the present and the dreams and visions of the future.
What began with the acquisition of a family pet has evolved into a full time hobby. Along the way I have met many wonderful people and made lots of new friends. In the late 1980's I met Nancy Sumida at a handling class. She was showing a 1/2 brother to my Misty. Nancy had owned and shown Siberians for 20 years when I met her. Nancy and I later co-bred our first litter of puppies together that produced CH Kioki and CH Kimo. The early 1990's brought about another lasting friendship with Marcy Lew of Kayak Siberians, Peggy Hervatine of Bajasan Siberians and Jean Mc Gill of Amahok Siberians . The dogs we are showing today are the result of a concentrated effort of all of us. Through the generosity and guidance of Tom Oelschlager and Marlene DePalma, the Kontoki pedigree was added. This proved to be a wonderful addition.
I have been a member of The Siberian Husky Club of America for the past twenty five years, and have also been active with the local Siberian Husky club. I have been actively showing in conformation for many years. Some of my dogs have also done obedience and agility work, some are certified therapy dogs and others are running in harness. Whatever their role in life, hopefully they are all responsible K-9 citizens.
Keep in mind, that although the Siberian Husky makes a wonderful companion and great family pet, it is not a breed for all people. I would like to see all buyers properly educated before they purchase a Siberian Husky. For general information on Siberian Huskies, please read the Siberian FAQ. This list of frequently asked questions gives good insight into the breed and offers "links" to other sites. Please also visit the Siberian Husky Club of America's website. This site also offers good information, as well as a referral directory of breeders in your area.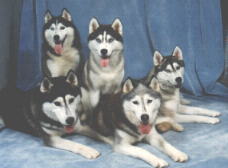 Generations of excellence
Five generations:
L to R sitting: CH Aadak's Here's Lookinatcha Kid - Ch CraKara's Sumiro C-My BB Bleus
BIS/BISS CH NeeChee's Snowfire Darkshadow - CH Aadak's Rheanan - CH Karamad's Leading Lady


Breeder Referrals:

 If you are looking for a breeder in your area, and can not find one listed on the SHCA 
   website, please e-mail me and I will help you locate one.
2-14