BIS/BISS CH. NEECHEE'S SNOWFIRE DARKSHADOW CGC- "SHADOW"

---
January 23, 1987 to March 22, 2004
We miss you cookie monster ^,,^

Bred by George and Linda Lehman - Snowfire Siberians
Owned by Verla McFayden - NeeChee Siberians, vmcfay@aol.com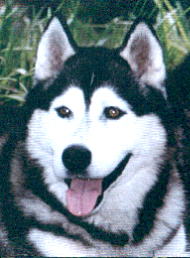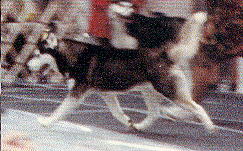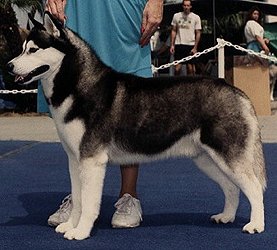 | | |
| --- | --- |
| OFA# SH-7989E24M | SHOR# S-5300 |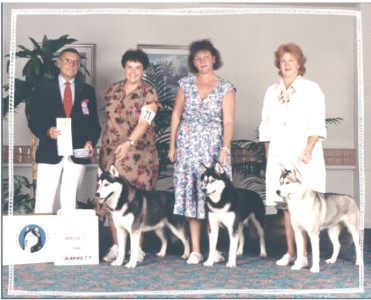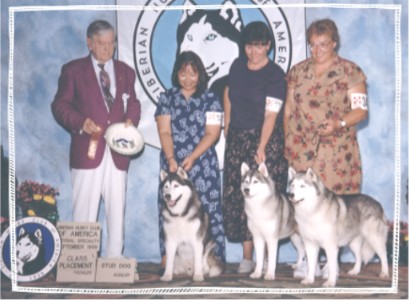 SHCA National Stud Dog Class
1990 best stud dog with get Bogie and Keyara . . . 1999 Second in stud dog with Keya and CH Osito's Raisa of NeeChee CD

Shadow's forces can be felt throughout Karamad. The first litter bred here was Misty to Shadow in 1988. At the time of the breeding, Shadow was unfinished but he did his unborn puppies proud by going off to the 1988 National and being awarded WD and BOW to finish his championship. So Bogie and Keyara were born champion sired. Shadow's easy going attitude could be seen in his kids early on.
1990 found Shadow at the National being awarded 1st in the Stud Dog Class with his young get Bogie and Keyara. He went on to receive an Award of Merit that year.
The early 1990's also found Shadow as the recipient of multiple BISS and the coveted BIS owner handled. Something California had not seen in some time.
In 1996 a second breeding to Shadow took place which produced Journey , Turner and Ryker. Although Journey has a bit of her mother high spirit, Ryker made a wonderful companion for his new family and easily makes the transition from part time show dog to full time pet with ease. Turner is easy going and lives a happy life at Kayak Siberians.
1997 saw the arrival of another Shadow son, CH Osito's Southern Kenai. What's one more??
1999 saw another good year for Shadow and his family. In May, at the Northern California Siberian Husky Club Specialty the whole family made a great showing. Shadow won the Veteran Dog Class. His daughter Keyara won the Veteran Bitch class. His son Ryker won Best Opposite Sex and 1st in Stud Dog with his two 6-9 month old get, Bruin and Treasure. Treasure and Bruin's mother Ellie (a Shadow granddaughter) won the Brood Bitch class with the same young get. Shadow tried his paw at obedience that year but found the cookies and the people outside the ring much more interesting.
October 1999 found the family at the National again, where at age 12, Shadow placed in both the Veteran Sweeps and Veteran Dog classes. His daughter Keyara, at almost 11, was awarded Best in Veteran Sweeps and placed 2nd in Veteran Bitch. As if that was not enough, Shadow was awarded 2nd place in a beautiful lineup of Stud Dogs with veteran Keyara and another veteran daughter, CH Osito's Raisa of NeeChee CD, who also placed in the veteran classes. They just seem to get better with time.
2000 met the arrival of ANOTHER Shadow daughter, Osito's Energizer.
As you can see, Shadow's roots run deep here at Karamad and I am very thankful that they do. His wonderful temperament can be seen in his many generations here. Thank you Verla for sharing the cookie monster with us.

PRODUCER OF offspring at Karamad & Kayak:

CH. Karamad's Leading Lady - "Keyara"

Am/Mex/Intl Ch. Karamad's Key Largo - "Bogie"

CH. Karamad's Redd Ryder - "Ryker"

CH Karamad's Sentimental Journey- "Journey"

Amahok's Turn Back Time - "Turner"

CH. Osito's Southern Kenai - "Kenai"

CH Osito's Energizer - "Amy"


                                   				AM/CAN CH. INNISFREE'S SIERRA CINNAR 
                    				CH. KONTOKI'S NATURAL SINNER 
                                   				Happy To Be Innisfree 
                                   				CH. PAX' GIH OF HOLOKAI 
                    				CH. AADAK'S RHEANAN 
                                   				Innisfree's Raven of Bakavi 
 			 CH. NEECHEE'S SNOWFIRE DARKSHADOW 
                                   				CH. MONADNOCK'S ARCTIC PANDO 
                    				CH. PAX' GIH OF HOLOKAI 
                                   				Monadnock's Zasha of Holokai 
               				CH. SNOWFIRE'S APRIL EDITION 
                                   				CH. EU-MOR'S TEQUILLA 
                    				CH. SNOWFIRE'S VIVA 
                                   				CH. ALAKAZAN'S SNOWFIRE 



Return to Top of page

Return to Portrait Studio

E-mail us!

Back to KARAMAD Siberians Home Page